Dr. Brian H. Wikoff, Owner-Doctor of Chiropractic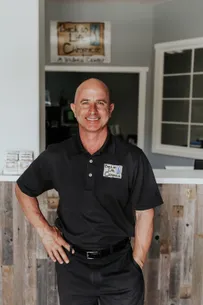 In 1991, Dr. Brian Wikoff graduated from the Los Angeles College of Chiropractic with a Bachelor's Degree in Biology, and a Doctorate in Chiropractic. Shortly after graduating, Dr. Wikoff and his wife Stacey went on to establish an Orange chiropractic office then growing into a Santa Ana chiropractic office which is what we now know as Back to Life Family Chiropractic.
Dr. Wikoff has been helping people feel and live better with chiropractic for over 28 years. He has earned many certifications in areas consisting of Spinal Trauma, Pediatrics, Scoliosis, and sports injuries. Essentially, Dr. Wikoff has been the team doctor for several youth and high school teams: Pop Warner Football, Riders for Christ Freestyle Riding, Gracie Brazilian Jui Jitsu World Team, Saddleback Valley Christian Schools and others. Dr. Wikoff is an extension to faculty at Life Chiropractic College and Southern California University of Health Sciences, previously known as Los Angeles College of Chiropractic.
Dr. Wikoff is married to Stacey and has three children Chanelle 28, teaching Special Education after graduating from Boise State in Idaho, Mason who is 24, who graduated from Baylor University and working in analytics and Sheridan 22, at Northwestern Nazarene University, working towards her masters in Counseling. Dr. Wikoff lives an active and healthy lifestyle. Stacey and Dr. Wikoff love organic gardening together, they have a pretty large crop at this time, tangerines, plums, grapes, tomatoes, lettuce, herbs, cucumbers and more. Dr. Wikoff enjoying sports such as sailing, deep sea diving, hiking, river rafting, SUP, Brazilian JuiJitsu, and Dr. Wikoff's newest hobby spear fishing. Dr. Wikoff has competed in the past in Jui Jitsu competitions, Tough Mudder, and various mud runs and 5ks. Amongst these many activities however, going to church and spending time with his wife and family is his most beloved activity of them all.
Dr. Sabrina Thomas, Doctor of Chiropractic

Dr. Sabrina was born and raised near Seattle, Washington. She grew up playing sports, her favorites being volleyball and soccer. With an active childhood and a positive scoliosis screening, she found herself at the chiropractor's office in her home town at age 11. As she grew up, she began to understand how much her chiropractor was able to help people and was touched by his healing presence. Dr. Sabrina continued her education at the University of Washington where she majored in Biology and continued to seek an active and healthy lifestyle working at a dance studio and a Barre studio.
Dr. Sabrina Thomas is a dynamic and enthusiastic chiropractor who graduated with a Doctor of Chiropractic degree from Palmer College of Chiropractic West in San Jose, CA. As a former member of the Palmer West Sports council, she is well versed in body rehabilitation and sports injuries, in relation to chiropractic. With a passion for promoting wellness and a strong dedication to patient care, Dr. Sabrina is eager to make a positive impact on the health and lives of her patients. She is the perfect addition to our team and we are so excited to have her healing hands here!
When she's not in the office, Dr. Sabrina loves a good yoga or Pilates class, spending time with her dog and hiking (or really anything outdoors). She has a passion for house plants and loves catching a good movie!
Stacey Wikoff, Operations Director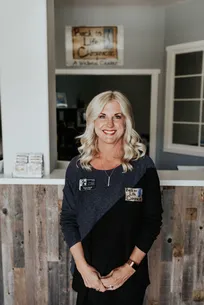 One of the people you will meet at Back to Life Chiropractic is Stacey Wikoff. Stacey has been involved in Chiropractic since she was a little girl, as a patient. Her mom brought her to see a chiropractor for scoliosis and for help with her asthma. She went on to work in this wonderful field for that same chiropractor. She worked for him for over 10 years before she met her future husband at a chiropractic seminar. Then in 1991, Stacey and Dr. Wikoff got married and shortly after opened their first office together in 1994. What a team!
Stacey can be seen at the front desk, helping patients and managing the office. She has a warm smile and loads of energy, she loves chiropractic and loves helping people. Stacey's hobbies are decorating and crafts, and you can see her special touches around the office. Stacey's passionate about sharing chiropractic, living a balanced but fun healthy active lifestyle. She runs, works out, does hot yoga, SUP's and eats healthy. Cooking with organic ingredients is a favorite pastime and teaching about living a holistic lifestyle is a passion. Dr. Wikoff and Stacey spend time together in their organic garden, and love growing seasonal produce. Both Stacey and Dr. Wikoff take pride in their three wonderful children. All of the kids were born naturally at home, vaccine free, they are perfect examples of living a holistic lifestyle. Stacey stayed home with the children when they were young. Now they are either going off to college, or out on their own, and are super healthy young adults.
Stacey is around to help... so feel free to ask questions! She wants you to have an amazing experience at Back to Life Chiropractic and find peace and wellness.

Taryn W., Office Manager & Physical Therapy Aide

Taryn has now been with our office for nearly 5 years! She was born and raised in the city of Fountain Valley, CA. She graduated from La Quinta High School in 2011, where she was involved with multiple athletic and extracurricular programs. Taryn then moved on to Santa Ana College where she continued her softball career, worked in the athletic training office, and participated in the Medical Assistant Program. Playing sports her whole life, Taryn has always had a passion for working as a team, making new friends, and helping care for injured teammates.
Taryn was introduced to chiropractic care here at Back to Life, after being in an auto accident. After a few visits she noticed a difference in her everyday health. Being intrigued in her progress, she grew a passion for chiropractic and holistic medicine. She comes to us after many years in the oral surgery industry, where she was licensed to assist the surgeon in anesthetic procedures. With her amazing bedside manner she will make you feel at ease while doing therapy, exercises, traction and other modalities. She is also Dr. Wikoff and Stacey's right hand, helping run the office and provide great service for all the patients. Taryn is dedicated to making sure every patient has a great experience in our office.
On her spare time, Taryn loves to spend time with her family and 5 year old boy, Matias! She is currently pursuing a Bachelor's degree in health office administration and on her spare time loves taking her son to Disneyland, catching a good football game on TV, golfing and spending time outside on a sunny day.

Dolly R., Chiropractic Assistant, Massage Therapist

Dolly, our multi-tasker, came to us with lots of experience… Dolly was raised in Massachusetts then in Murrieta, California, and moved to Arizona in 2004. While in Arizona Dolly began pursuing her passion of helping others. She graduated from The Arizona School of Massage Therapy and has been healing people since day one. Dolly has worked at several massage centers but prefers working alongside chiropractors because of the therapeutic value. After working for a chiropractic office for over 8 years doing front office and massage she moved to Southern California where we had the pleasure of adding her to our team.

Dolly enjoys hikes, going to the beach, art museums, and finding new places to eat… She also loves playing with her puppy, Trappy.

When she isn't at Back to Life Chiropractic running the front desk or doing some deep tissue work on a patient she could be doing some ones makeup. Dolly also is a make-up artist for special events, weddings, and photo shoots!

If you have had massage with Dolly, then you know how amazing she is and that her healing talent flows through her hands. She specializes in deep work, cupping, sports massage and more. She is highly sought after and at the current time has a pretty long wait list. If you would like to book with her, contact our front desk and get on her schedule!!!
Christina S., Chiropractic Assistant
Christina is our newest team member! As a chiropractic assistant, Christina is one of the first people you will see at your visits. Christina's sweet personality and bright smile will always make you feel welcome and her passion for chiropractic and experience as a patient will ease any nerves you may have. She is also very family oriented and amazing with kids, which makes the entire family feel welcome!

Christina was born and raised in orange county. She attended Arnold O. Beckman High school where she thrived in their athletics. From varsity cheerleading to cross country/track and field, she has always had a fun balance of an athlete with a girly side. Continuing her passion for sports after high school, she joined a co-ed softball team for a few years and now has an immense passion for weight training. Christina has a dream of using her experiences as a mom and athlete to inspire other women that regardless of having children, we are all capable of being fit and living a healthy lifestyle.
Her family is the anchor of her life. She has 4 kids altogether, 3 boys and a girl ranging from baby years to teenage years! She enjoys cooking healthy meals for her family and being active together. She believes it is important to build healthy habits for her children now so they continue to grow their own health journeys. As a family they enjoy having meals together, movie nights and going to theme parks. They also enjoy giving in to their sweet tooth on occasion and love baking together! We hear they have an amazing recipe for chocolate chip cookies from scratch!
Before joining our team, Christina and her children were actually all patients here! Dr. Wikoff helped her babies overcome some colic and tummy issues, PLUS helped Christina with her fertility. Now she has made it a point to include chiropractic in her health routines for the whole family. All of her kids receive wellness adjustments at least once a month to maintain their overall health.
Lisa M, Chiropractic Assistant
Welcome Lisa! She is Back to Life Chiropractic's new face at the front desk.
Lisa has been getting chiropractic care from Dr. Brian at Back to Life since 2014. Coming in initially for allergies, she discovered that her neck pain/headaches went away and her posture improved immensely. She then sent in her husband and son to get healthy as well. We Love Lisa's passion for chiropractic and for her family.
Lisa grew up in Illinois as the oldest of three children. In high school, Lisa enjoyed; downhill skiing, tennis, baton, boating and singing in her school choir. After high school Lisa graduated from the University of Puget Sound in Tacoma. This started a 25 year career in advertising. A move to California and a husband with a child on the way then started a new chapter in her life. When her son was 2 years old, Lisa turned to real estate and joined her mom in the family business. This was a perfect fit with flexibility as she and her husband, Bob, raised their little boy. Who, by the way is not a little boy anymore, Parker is an athletic stud who is enjoying his sophmore year at University Tennessee-Knoxville.
Now as empty nesters, Lisa and her husband get to enjoy time together and with their Goldendoodle - Willow. Faith, Family and Friends are what tops her list, but we can't leave out; college football, traveling, wine tasting and water aerobics (hopefully not at the same time). She brings energy, a great smile and compassion to our front desk.
Trinah G., Insurance Billing Manager
Trinah grew up in the Philippines and moved to the United States when she was 22 years old. She graduated with a Bachelor of Science degree in Nursing, RN.
Trinah's first job was in a chiropractic office of a great chiropractic friend of Dr. Wikoff's. She worked for that office for 11 years as his office manager and insurance biller. Then in 2011, Trinah decided to open TStar Billing. Lucky us! With over 19 years of chiropractic billing experience, Trinah is a leader in her field. Trinah is now been part of Back to Life Chiropractic for over 6 years. Her extreme diligence and attention to detail makes her a cut above the rest. Trinah keeps current on the ever changing world of medical billing to ensure all the latest regulations are implemented and every possible dollar is collected.
Trinah has been married to her husband, Chris for over 20 years. They now have their first son, Preston, who is 5. Then her fur babies, Russia a Red Lab and Riley a Chocolate Lab. Trinah and her husband live a very active healthy lifestyle. They both enjoy hiking and kickboxing during the week. On the weekends, they hang out with their family and go to the lake or to a park, tend to their organic garden, and on Sunday they reserve it for church!